Recycler v1.1
** Updated Apr 2, 2003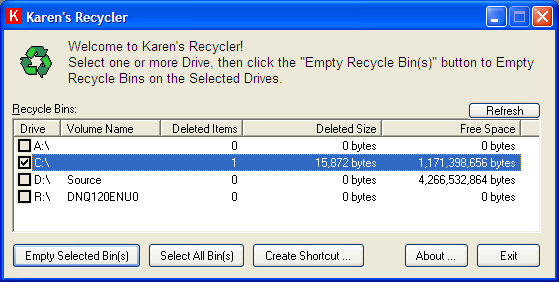 View information about each drive's Recycle Bin, including number of deleted files, space occupied by deleted files, and free space. empty manually, and automatically (using other programs such as Karen's Show Stopper and Karen's Countdown Timer II).
For more information, read these back issues of Karen's Power Tools newsletter:
Download
Enhancements/Bugs Fixed
None (this is the first release).
Thanks!
Please consider feeding our starving enterprise.
Power Tools Newsletter
You are still subscribed, Thanks!
30101 Verified Subscribers
Subscribe to receive new issues of the newsletter about Karen and her free Power Tools.
Click here to Subscribe