Show Stopper v2.1.3
** Updated August 16, 2007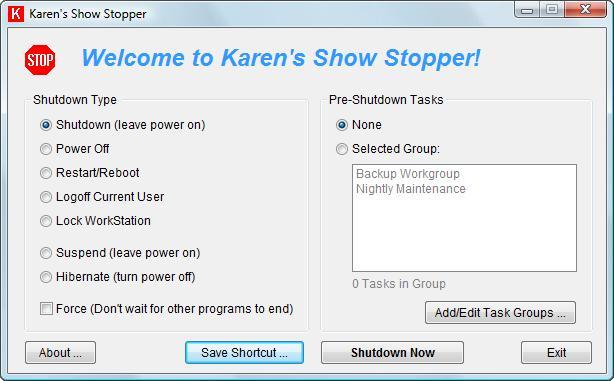 Shutdown, Power Off, Reboot, Log Off, Suspend or Hibernate -- all from a desktop shortcut or command line!
Karen's Show Stopper allows you to create shortcut icons that quickly Shutdown, Power Off, Reboot, Log Off, Suspend or Hibernate your computer. You can also run the program as a small icon in Windows System Tray, and shutdown Windows by right-clicking on this icon.
Another option allows you to shutdown Windows from the Show Stopper's main window. You can even run the Show Stopper from a command line, and specify your type of shutdown via command-line parameters!
And now, you can specify one or more tasks (programs) to be run automatically just before your computer is shutdown, powered off, logged off, etc.!
For more information, read these back issues of Karen's Power Tools newsletter:
Download
Enhancements/Bugs Fixed
Version 2.1.3: Changed location of settings files to better accomodate Windows Vista's security features. Also updated installer, made some cosmetic changes to user interface.
Version 2.0.3: Inadvertently fixed a bug that sometimes prevented the program from initiating a hibernation.
Version 2.0: Can automatically run groups of tasks (programs), immediately before a shutdown, power off, logoff, etc.
Version 1.1: Disables options not available, when run on older versions of Windows. Also corrects problem that prevented forced logoffs when running Windows 95.
Version 1.0.2: This is the first release.
Thanks!
You make this dance possible.
Power Tools Newsletter
Big Green Button
Social Networking
Half Price Sale
29358 Verified Subscribers
Subscribe to receive new issues of the newsletter about Karen and her free Power Tools.
Click here to Subscribe