Zone Manager v1.4.3
** Updated March 18, 2010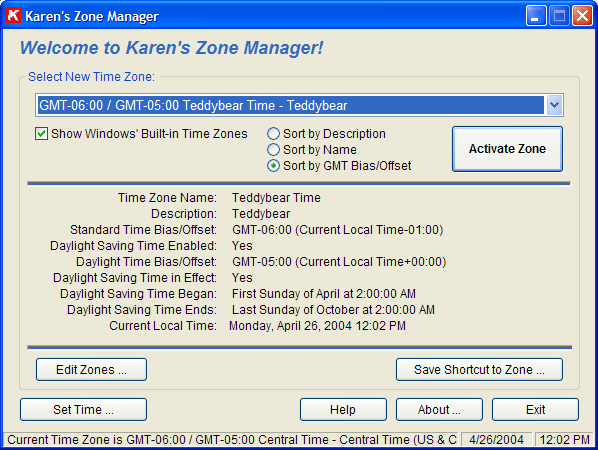 Take control of Windows' Time Zones! Now you can create a desktop shortcut to any time zone, allowing you to switch between zones with just the double-click of your mouse. You can even create your own custom time zones, enabling or disabling settings such as Daylight Saving Time.
When you change zones, your computer's clock is adjusted automatically. Or, at any time, the Zone Manager can synchronize your computer's clock to one of the ultra-precise Internet Time Servers!
For more information, read these issues of Karen's Power Tools newsletter:
Download
Enhancements/Bugs Fixed
Version 1.4.3: Limited the names of custom time zones to 16 characters or less to work around a limitation of some (all?) versions of Windows.
Version 1.4.2: Fixed bug in Edit Zone window that sometimes prevented program from correctly displaying original zone information when editing an existing custom zone.
Version 1.4.1: Made change to the program's "manifest" to cause the program to run as Administrator under Windows Vista and later.
Version 1.4: Made several changes to make program work better with Windows Vista. These include changes to location where settings are stored, and an HTML-format help file.
Version 1.2: Now, when you resize one of the program's windows, the sizes of its buttons, graphics, text, etc. shrink or grow too.
Version 1.1: Removed unnecessary reference to Trace.bas source file. Slightly sped up connection to remote time servers (by perhaps 5-10 milliseconds) by resolving the name to an IP address first.
Version 1.0: This is the first release

Downloads Today: 13
More than 6000 downloads monthly
Received $132.68 this month* — Thanks!
License for Work
A license is required to use any or all of these tools for your work. You only need one per lifetime. If you make money with Karen's software, read her license agreement.
Power Tools Newsletter
What is Karen's QR Code Talker?
What is a QR code?
What is a Code Talker?
24796 Verified Subscribers
Subscribe to receive new issues of the newsletter about Karen and her free Power Tools.
Click here to Subscribe
December Revenue* $132.68
*Licenses + Donations - PayPal Fees
Nov $546 Oct $253 Sep $232 Aug $189 Jul $379 Jun $188 May $484 Apr $212 Mar $519 Feb $89 Jan $462 Dec22 $1088 Nov22 $151 Oct22 $133 USD — Thanks again!