Window Watcher v2.2.1
** Updated Sep 23, 2003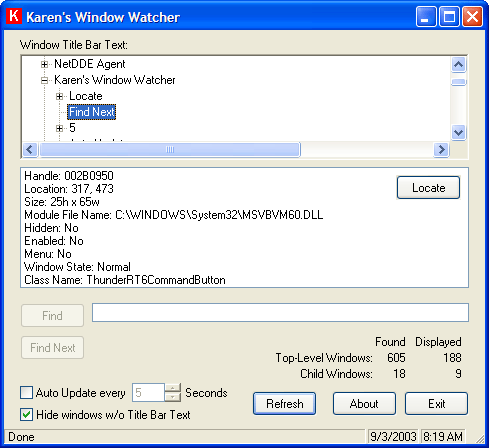 Do you know what's running on your computer? Maybe not. The Window Watcher tells all, reporting every window created by every running program, whether the window is visible or not. You might be surprised to learn exactly what your computer is up to ...
For more information, read these back issues of Karen's Power Tools newsletter:
Download
Enhancements/Bugs Fixed
Version 2.2.1: Fixed bug that caused program to fail to detect the absence of Windows component psapi.dll on older versions of Windows.
Version 2.2: Worked around a bug in recent versions of Windows that prevented the Window Watcher from reliably determining the owner of a window.
Version 2.1: Can now display on-screen location of selected windows, including hidden windows.
Version 2.0: Program now uses Explorer-like interface to allow you to browse main and child windows. Additional information about each window is now displayed. Also, you can search through Windows' list of on-screen title bar texts, looking for titles that contain a selected text.
Version 1.7.1: Fixed bug that caused "Error 5" when program started.
Version 1.7: Allows you to search window titlebar text. Also displays whether each window is visible, and enabled.
Version 1.5: Will display the window creator when running under Windows 2000.
Version 1.2: Reports the name of the program creating each window.
Version 1.1: Properly responds to the "Hide windows w/o titlebar text" checkbox. Previous versions ignored this setting. The Refresh button is also now enabled when the program starts.

Downloads Today: 13
More than 6000 downloads monthly
Received $132.68 this month* — Thanks!
License for Work
A license is required to use any or all of these tools for your work. You only need one per lifetime. If you make money with Karen's software, read her license agreement.
Power Tools Newsletter
What is Karen's QR Code Talker?
What is a QR code?
What is a Code Talker?
24796 Verified Subscribers
Subscribe to receive new issues of the newsletter about Karen and her free Power Tools.
Click here to Subscribe
December Revenue* $132.68
*Licenses + Donations - PayPal Fees
Nov $546 Oct $253 Sep $232 Aug $189 Jul $379 Jun $188 May $484 Apr $212 Mar $519 Feb $89 Jan $462 Dec22 $1088 Nov22 $151 Oct22 $133 USD — Thanks again!