WebUpdate v1.0.4
** Updated Sep 5, 2002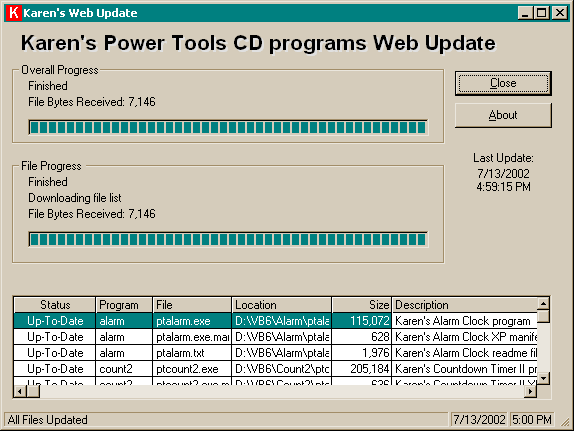 Automatically keep your installed Power Tools up-to-date!
Run Karen's WebUpdate and it will quickly examine your installed Power Tools. If newer versions of any installed Power Tools exists (whether or not it shipped with your CD), the update will be downloaded and installed automatically.
Note: This program is included on all recent editions of Karen's CD. If possible, you should install it from the CD, by running its Power Tools Setup program. Only users of 2001 Editions, and a few early 2002 Editions, need to download this program.
Download
Karen's WebUpdate
Note: This program will only work on computers where Karen's CD has been installed.

Download and run to install WebUpdate
1,235,320 bytes
Enhancements/Bugs Fixed
Version 1.0.4: Updated to recognize new Power Tools, released since first Web Update release.
Version 1.0.2: Fixes problem on a few computers that caused the WUMaster.txt file (the file that tells Web Update the current version of each file) to be truncated.
Thanks!
Please consider feeding our starving enterprise.
Power Tools Newsletter
Directory Printer v5.4.4 Adds Unicode Characters Support
Replicator v3.7.6 Eradicates Bug that caused Error 3
31722 Verified Subscribers
Subscribe to receive new issues of the newsletter about Karen and her free Power Tools.
Click here to Subscribe