Time Cop v1.2
** Updated Sep 11, 2002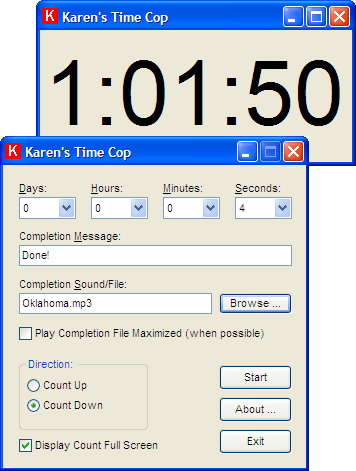 No more meetings running overtime! Teachers, time your exams! Cooks, time your favorite recipes! Whether you're studying, excercising, or just taking a nap at work, you need Karen's Time Cop. :)
Karen's Time Cop displays a large (up to full-screen) clock that shows the time remaining (or elapsed time) for a user-selected period. Once the selected amount of time has passed, your message is displayed, and your .wav, .mid, .mp3 or .avi file is played.
For more information, read these back issues of Karen's Power Tools newsletter:
Download
Enhancements/Bugs Fixed
Version 1.2: This is the first public release.
Thanks!
You make this dance possible.
Power Tools Newsletter
Big Green Button
Social Networking
Half Price Sale
29358 Verified Subscribers
Subscribe to receive new issues of the newsletter about Karen and her free Power Tools.
Click here to Subscribe