Snooper v1.4
** Updated 12/5/1999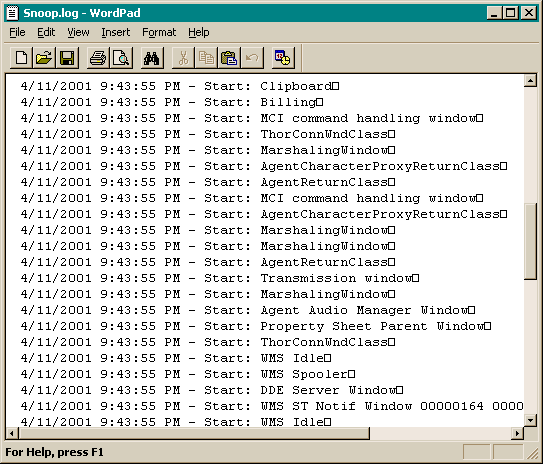 Keep track of the programs your computer runs, even when you're away. This Power Tool runs invisibly, and creates a log file (snoop.log) that records the starting and stopping of every program. The program can be used to detect tampering, or just to track the time spent using each program.
For more information, read these back issues of Karen's Power Tools newsletter:
Download
Enhancements/Bugs Fixed
Version 1.3: Fixes an overflow problem that kept earlier versions from running under Windows NT.
Version 1.2: Remembers its last screen location, and returns to that location the next time it is run.
Version 1.1: By default, allows other programs to open the log file (for reading only). This access can be blocked by adding "/lock" to the program's command line.

Downloads Today: 14
More than 6000 downloads monthly
Received $132.68 this month* — Thanks!
License for Work
A license is required to use any or all of these tools for your work. You only need one per lifetime. If you make money with Karen's software, read her license agreement.
Power Tools Newsletter
What is Karen's QR Code Talker?
What is a QR code?
What is a Code Talker?
24796 Verified Subscribers
Subscribe to receive new issues of the newsletter about Karen and her free Power Tools.
Click here to Subscribe
December Revenue* $132.68
*Licenses + Donations - PayPal Fees
Nov $546 Oct $253 Sep $232 Aug $189 Jul $379 Jun $188 May $484 Apr $212 Mar $519 Feb $89 Jan $462 Dec22 $1088 Nov22 $151 Oct22 $133 USD — Thanks again!