Registry Ripper v1.2
** Updated Mar 13, 2000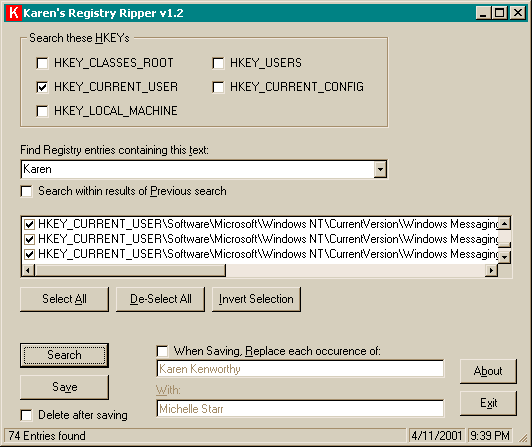 Copy selected Registry entries to a .REG file, for easy importing into another Registry. Move Registry entries from one computer to another, or make selective backup copies of your Registry data.
For more information, read these back issues of Karen's Power Tools newsletter:
Download
Enhancements/Bugs Fixed
Version 1.2: Adds the ability to replace portions of a Registry key, before it is saved to a .REG file.
Version 1.1: Adds the ability to search within the results of a previous search. It can also delete selected Registry entries, once they've been saved to a .REG file.
Thanks!
You make this dance possible.
Power Tools Newsletter
Big Green Button
Social Networking
Half Price Sale
29344 Verified Subscribers
Subscribe to receive new issues of the newsletter about Karen and her free Power Tools.
Click here to Subscribe