Computer Profiler v2.5.3
** Updated October 30, 2007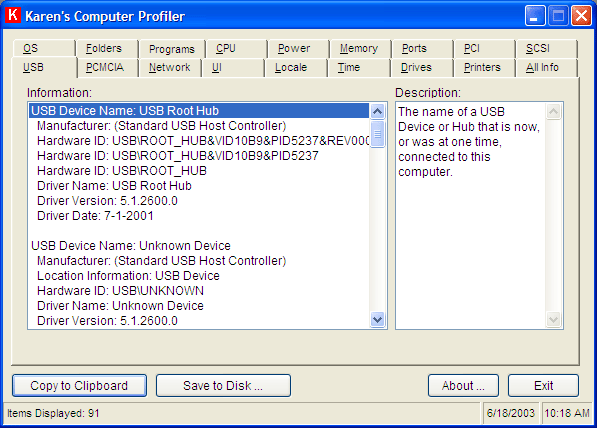 Learn more than 200 interesting facts about your computer. Details about your CPU, memory, operating system, even your computer's power source, are all displayed. You can also copy the information to the Windows clipboard, and paste it into a document for permanent storage.
For more information, read these back issues of Karen's Power Tools newsletter:
Download
Enhancements/Bugs Fixed
Version 2.5.3: Taught program how to obtain memory statistics on computers with large (greater than 2-4 GB) of memory.
Version 2.5.2: Made changes to better report Operating System information when running under Windows Vista. Added BIOS and Motherboard information (when available).
Version 2.5.1: Fixed bug that caused Profiler to report a program was not uninstallable, when in fact no information was available. Should have (and now does) default to uninstallable.
Version 2.5: Now shows information about IEEE 1394/Firewire devices. Also, main window is now resizable.
Version 2.4: Now lists information about all devices ever connected to the computer's USB bus, SCSI bus, PCMCIA Card bus, or PCI Adapter card bus.
Version 2.3.2: Fixed problem caused by invalid Version information stored by installer of "Product/Adobe Studio Update 10/2001". Also enhanced version detection so it will display VersionMajor and VersionMinor if the Registry entries Version and DisplayVersion are missing.
Version 2.3.1: Fixed bug that kept the new installed program list, and USB info, out of the information displayed when you clicked the "All" tab.
Version 2.3: Now displays information about all installed programs/applications. Also displays information about every USB device that has ever been attached to the computer.
Version 2.2: Now displays information about Recycle Bins. Also, double-clicking a folder name in the "Folders" section will open that folder.
Version 2.0.2: Program now displays "Not Reported" if it encounters a printer driver that does not report the standard paper size.
Version 2.0.1: Fixed a problem that caused the Profiler to crash with Error 13 - Type Mismatch when run on systems with misbehaving printer drivers. Thanks to readers Jim Coombs, Rob, and Leonard S. Berkowitz for reporting and helping fix this problem!
Version 2.0: Added Locale tab, displaying over 40 Regional Settings. Progran can now save information to disk, either via the new "Save to Disk" button, or the new "/SAVE filename" command line parameter.
Version 1.9.1: Only the setup program changed, to remove a reference to an unused file.
Version 1.9: Now displays network interface statistics, including number of packets sent/received, and error rate for each interface.
Version 1.8: Improvements made to help visually impaired users. Disk info now displays longest possible file name, and drive cluster size.
Version 1.7.1: No change to the program. But the setup program no longer tries to install iphlpapi.dll, and no longer looks for msado25.tlb.
Version 1.7: Displays disk cluster size, detailed information about each Network Interface (network adapter). Also indicates whether RTC adjustment is enabled/disabled/not available.
Version 1.6.1: Fixed a bug that causes an error when clicking on the CPU Manufacturer line for more information. Thanks to reader Clark Davidson for quickly spotting and reporting this bug!
Version 1.6: Now reports resolution of file create, modify and access times. Shows Real-Time Clock adjustment factors (Windows 2000 and XP only). Handles disk drive sizes as large as 17,179,869,184 GB, and memory sizes as large as 4 GB. Detects and reports Intel's 64-bit CPU, Itanium, and AMD's 64-bit CPU, Sledghammer.
Version 1.5.2: Correctly identifies Windows XP (no longer calls it "Windows Whistler").
Version 1.5: Uses a different tabbed dialog control, to be more compatible with screen readers used by users with little or no eyesight. It also adds three new items: Physical Memory In Use, Virtual Memory In Use, and Swap File Space In Use.
Version 1.4: Fixed a problem that caused the program to fail when port drivers returned a null pointer. It also reports whether the Show Sounds option, to help hearing impaired users, has been selected. This version also works around a bug in Windows that causes it to report invalid information for CD-ROM and DVD drives with no disc.
Version 1.3: Fixed a problem that caused the program to fail when pseudo-drives reported excessive volume sizes. It also properly displays Standard and Daylight start dates/times, and displays the rules that govern these time changes.
Version 1.2.2: Fixed a problem that caused the program to call the Windows GetCurrentHWProfileA function under older operating systems that don't support that function.
Version 1.2.1: Fixed a problem that caused the program to call the Windows GetSystemWindowsDirectoryA function under older operating systems that don't support that function.
Version 1.2: Adds several new information categories, including Network, Time, Ports and Drives. The total number of bits of information now displayed is over 100.
Version 1.1: Correctly identifies Windows 98. It also works around a bug in some laptop battery status drivers, that incorrectly report remaining battery capacity using a 0 to 255 scale, instead of a 0 to 100 scale.
Downloads Today: 40
More than 6000 downloads monthly
Received $231.71 this month* — Thanks!
License for Work
A license is required to use any or all of these tools for your work. You only need one per lifetime. If you make money with Karen's software, read her license agreement.
Power Tools Newsletter
YouTube Channel
Kindle Edition
TeddyBear.com
26800 Verified Subscribers
Subscribe to receive new issues of the newsletter about Karen and her free Power Tools.
Click here to Subscribe
September Revenue* $231.71
*Licenses + Donations - PayPal Fees
Aug $189 Jul $379 Jun $188 May $484 Apr $212 Mar $519 Feb $89 Jan $462 Dec $1088 Nov $151 Oct $133 USD — Thanks again!