Print Logger v2.5
** Updated June 19, 2007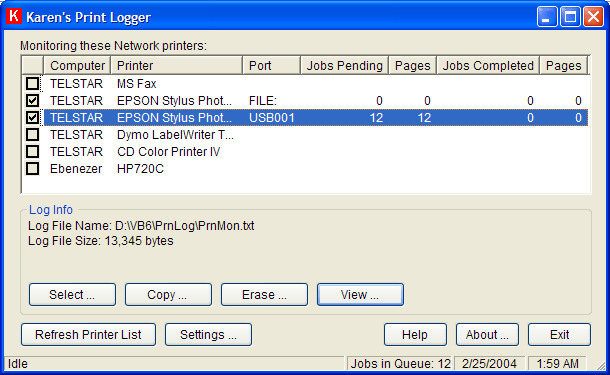 Know what documents you print, when and where you print them. Karen's Print Logger records each completed print job in a special log file. The log file can be viewed, sorted, and imported into your favorite spreadsheet or word processor.
For more information, read these back issues of Karen's Power Tools newsletter:
Download
Enhancements/Bugs Fixed
Version 2.5: Made several changes to make program work better with Windows Vista. These include an HTML-format help file, and changes to location where settings are stored.
Version 2.4.1: Now includes Help file. Logging of a print job's Priority and Status have been improved, and logging of a job's Time to Print has been added.
Version 2.3: Now allows you to select printers from either of two "universes": Your local "Printers and Faxes" folder, or all shared printers on your network plus local printers (shared or unshared). New option allows program to be minimized to system tray icon.
Version 2.1: First update in over four years. Now works much more reliably with newer, faster computers. Displays information about jobs in progress, jobs completed. Added new log file entries.
Downloads Today: 43
More than 6000 downloads monthly
Received $231.71 this month* — Thanks!
License for Work
A license is required to use any or all of these tools for your work. You only need one per lifetime. If you make money with Karen's software, read her license agreement.
Power Tools Newsletter
YouTube Channel
Kindle Edition
TeddyBear.com
26800 Verified Subscribers
Subscribe to receive new issues of the newsletter about Karen and her free Power Tools.
Click here to Subscribe
September Revenue* $231.71
*Licenses + Donations - PayPal Fees
Aug $189 Jul $379 Jun $188 May $484 Apr $212 Mar $519 Feb $89 Jan $462 Dec $1088 Nov $151 Oct $133 USD — Thanks again!