URL Discombobulator v1.9.1
** Updated Jul 30, 2007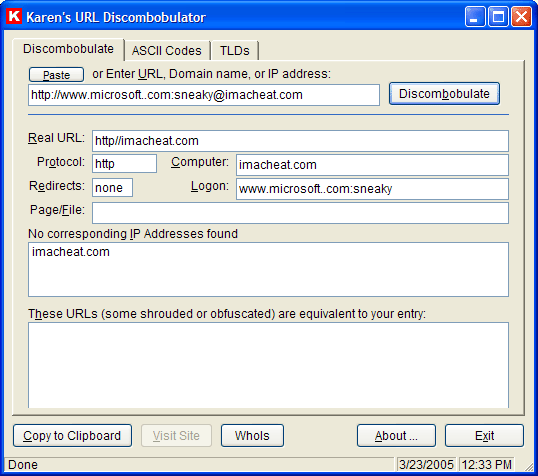 Lookup the IP address(es) associated with any valid domain name. Or lookup the domain name associated with any IP address (if the owner of the IP address has added the corresponding PTR record in the DNS server authoritative for the IP address range). As a bonus, the program generates alternate "shrouded" URLs for any web site, and can display the ASCII Code table.
For more information, read these back issues of Karen's Power Tools newsletter:
Download
Enhancements/Bugs Fixed
Version 1.9.1: Changed the way internal data files are stored to be more compatible with Windows Vista's security features.
Version 1.9: Changed the "Tabbed Dialog" control to enable the program to work better with screen readers -- tools that help blind and vision-impaired users.
Version 1.8.3: Changed the way info is copied to clipboard when right-click context menus are used. Also dropped logon and password info from "Real URL" for all URLs execpt "mailto".
Version 1.8.2: Fixed error that caused wrong info to be copied to clipboard for "Computer".
Version 1.8.1: Fixed small typographical error, and increased space between "Paste" button and URL Text box to prevent the two from impinging on one another.
Version 1.8: Program can now decipher many redirected URLs -- those that send your browser to one or more intermediate web sites before reaching the final destination. Also, a "WhoIs" button was added, which runs Karen's WhoIs to reveal the owner of a shrouded domain name or IP address, and that owner's contact information.
Version 1.7.1: Added right-click context menu to list of URLs, allowing user to copy all, or selected, entries to the Windows clipboard. Also increased the number of shrouded versions of a selected address that are displayed.
Version 1.7: Program now parses several types of URLs, including http, ftp, and mailto.
Version 1.6.5: Program now displays a Minimize button in its title bar, allowing the main window to be minimized to the task bar. Also, an XP Manifest file was added, to improve Windows XP look and feel.
Version 1.6: Displays complete list of Top-Level Domains (TLDs), including all ISO Country Codes.
Version 1.5: Can now do "forward" lookups hex-encoded domain names.
Version 1.4: Can now do "forward" lookups of all-numeric IP addresses. It also displays a more helpful error message when a reverse lookup fails.
Version 1.3: Strips URL information from domain names, making lookup easier. it also adds Roman Numerals column to ASCII Code table.
Version 1.2: Fixes a bug that prevented Reverse Lookup of four-part domain names. It also adds the ability to view the ASCII Code table, showing the numeric values assigned to each character using the decimal, hexadecimal, octal, and binary numbering systems.
Version 1.1: Includes some additional forms of "shrouded" URLs.
Downloads Today: 39
More than 6000 downloads monthly
Received $231.71 this month* — Thanks!
License for Work
A license is required to use any or all of these tools for your work. You only need one per lifetime. If you make money with Karen's software, read her license agreement.
Power Tools Newsletter
YouTube Channel
Kindle Edition
TeddyBear.com
26800 Verified Subscribers
Subscribe to receive new issues of the newsletter about Karen and her free Power Tools.
Click here to Subscribe
September Revenue* $231.71
*Licenses + Donations - PayPal Fees
Aug $189 Jul $379 Jun $188 May $484 Apr $212 Mar $519 Feb $89 Jan $462 Dec $1088 Nov $151 Oct $133 USD — Thanks again!