Clipboard Viewer v2.2
** Updated Dec 3, 2002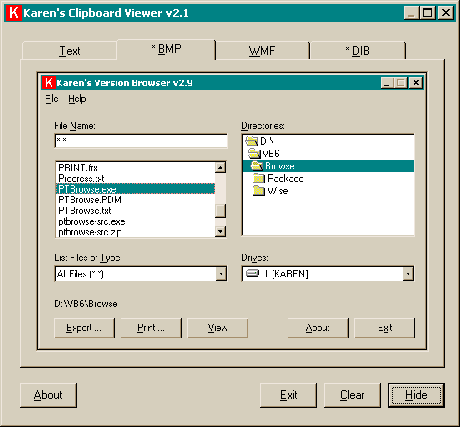 Peek inside your Windows clipboard. See what's waiting for your favorite application, in any of four different data formats (TXT, BMP, WMF and DIB). This handy tool can also erase the clipboard. New with version 2.0: Now runs from the Windows System Tray!
For more information, read these back issues of Karen's Power Tools newsletter:
Download
Enhancements/Bugs Fixed
Version 2.2: Updated program to display new Windows XP-style window when run under Windows XP.
Version 2.1.1: Updates a Windows Common Control DLL in setup package. No change made to the Clipboard Viewer program.
Version 2.1: Eliminates the flicker of earlier versions.
Version 1.1: Now runs from Windows System Tray.
Thanks!
Please consider feeding our starving enterprise.
Power Tools Newsletter
You are still subscribed, Thanks!
30101 Verified Subscribers
Subscribe to receive new issues of the newsletter about Karen and her free Power Tools.
Click here to Subscribe