Autorun.inf Editor v1.4
** Updated Mar 13, 2001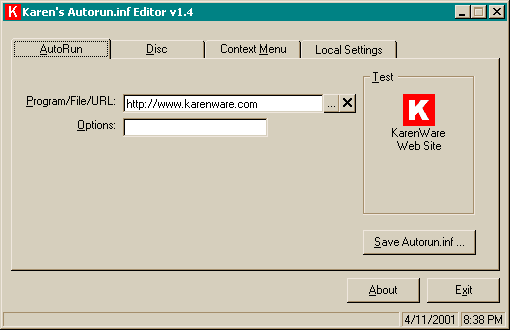 Easily create the Autorun.inf file that allows programs on CD run automatically when the CD is inserted! Now the CDs you create can automatically display a web page, text file, navigate the user's web browser to a support web site, launch a setup program, and more.
For more information, read these back issues of Karen's Power Tools newsletter:
Download
Enhancements/Bugs Fixed
Version 1.4: Allows users to change their local Autorun settings, disabling the Autorun feature for certain drives, certain types of drives, or all drives.
Version 1.3.1: Prevents Error 429: ActiveX Component Can't Create Object, and Error 430: Class does not support automation or does not support expected interface. Both errors were caused by a file named SCRUN.DLL, which is missing on some systems (it's a part of Windows Scripting Host). The new version no longer uses this file.
Version 1.3: Fixes a bug that caused an error if you clicked inside the context menu list, before any context menu entries had been added.
Version 1.2: Includes PTStart, a program that allows CD's to automatically open documents, and navigate to web sites, when inserted, in addition to automatically running a program.
Version 1.1: Allows you to specify a default entry on a disc's context menu.

Downloads Today: 14
More than 6000 downloads monthly
Received $132.68 this month* — Thanks!
License for Work
A license is required to use any or all of these tools for your work. You only need one per lifetime. If you make money with Karen's software, read her license agreement.
Power Tools Newsletter
What is Karen's QR Code Talker?
What is a QR code?
What is a Code Talker?
24796 Verified Subscribers
Subscribe to receive new issues of the newsletter about Karen and her free Power Tools.
Click here to Subscribe
December Revenue* $132.68
*Licenses + Donations - PayPal Fees
Nov $546 Oct $253 Sep $232 Aug $189 Jul $379 Jun $188 May $484 Apr $212 Mar $519 Feb $89 Jan $462 Dec22 $1088 Nov22 $151 Oct22 $133 USD — Thanks again!