Alarm Clock v3.0.5
** Updated November 9, 2008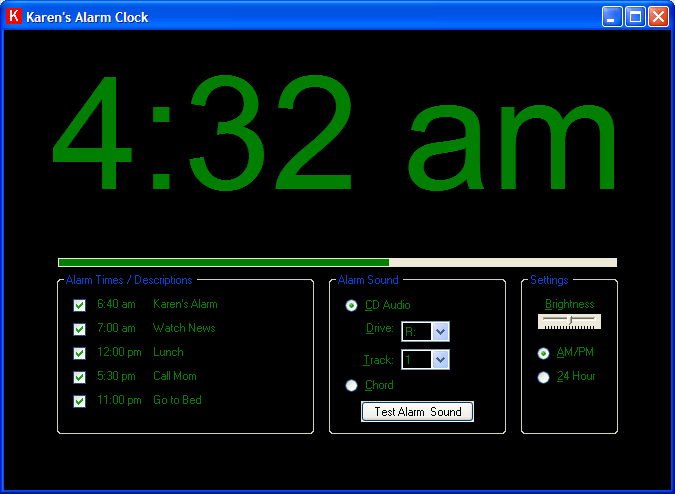 Turn your $2,000 computer into a $20 alarm clock! Set up to five different alarm times. Wake up to a beep, any wave or MIDI file, even a track from your favorite audio CD. Great for travellers, or the executive who likes to sleep on the job. :)
For more information, read these back issues of Karen's Power Tools newsletter:
Download
Enhancements/Bugs Fixed
Version 3.0.5: Updated default ding sound to make it louder.
Version 3.0.3: Added ability to easily browse for shortcuts (*.lnk files) when selecting Alarm File to play or open.
Version 3.0.2: Fixed problem that caused program to sometimes forget to recognize edited alarm times.
Version 3.0.1: Fixed problem editing description of Alarm 1. Improved support for context menu's Cancel choice.
Version 3.0: Added support for multiple CD drives, added fifth alarm time. Fixed problem with missing Windows Default sound.
Version 2.6: Program can now play any multimedia file (.AVI, .MP3, etc.) when an alarm is sounded.
Version 2.5.2: Fixes problem that could cause program to crash when minimized.
Version 2.5.1: Time display increases in size as main window is expanded. Updates user interface when running under Windows XP.
Version 2.4.2: Fixes typographical error that caused one control's ToolTipText to be displayed in its Caption.
Version 2.4.1: Source includes new Registry.bas module, now uses updated Common Control library.
Version 2.3: displays a reminder to press the <Spacebar> key to silence the alarm. It also allows you to press the <Esc> key, or click the Stop button (black square) on the multimedia control panel.
Version 2.2: Changed the way alarm times appear when being edited.
Version 2.1: Fixed bug that sometimes caused program to fail to sound an alarm
Version 2.0: Supports audio CDs.
Thanks!
You make this dance possible.
Power Tools Newsletter
Big Green Button
Social Networking
Half Price Sale
29344 Verified Subscribers
Subscribe to receive new issues of the newsletter about Karen and her free Power Tools.
Click here to Subscribe