WhoIs v2.7
** Updated December 5th, 2018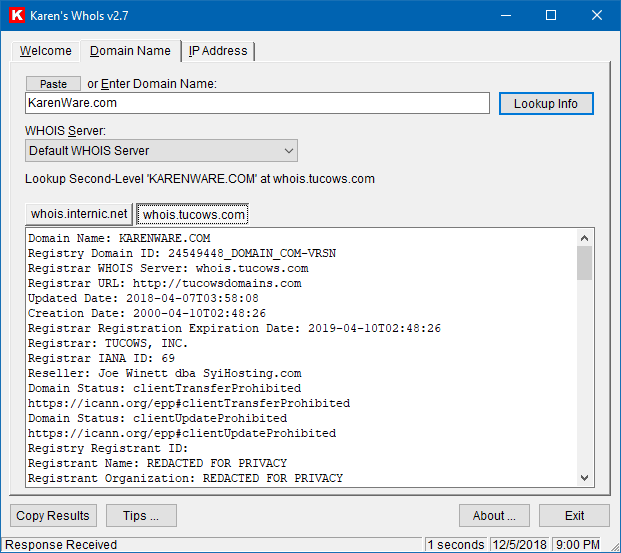 Query domain registration and IP address allocation records from registries around the world!
For more information, read these back issues of Karen's Power Tools newsletter:
Download
File
Version
Released
Size
Hash
Karens-WhoIs-v2.7-Setup.exe

New!


Download and run to install WhoIs v2.7
2.7
December 5th, 2018
1484936 bytes
MD5
ad2947478b6174810ef1a424c6f8b5b6
SHA-1
c0d55d8a9ad8004cf49be4fb7e2439e38d7cf62f
SHA-256
1ee4203f4f3b7673676c83ebb3192162f610e2012c84332547aec6a219a0b8a0
VirusTotal Scan Results
Display Older Files (3 available)
File
Version
Released
Size
Hash
ptwhois-setup.exe

Legacy Version


Download and run to install WhoIs v2.6.6
2.6.6
August 30th, 2008
1485320 bytes
MD5
a3647ae1219ff0b7edb518fc773ac515
SHA-1
a2f10628b88eece13340646bf5de7e4bd73586d1
SHA-256
4c5cd0881a7744146e45d4cffc16b9e1d59e57a092824ed5ba8a2024c005dce8
ptwhois-src.exe

Legacy Version


(programmers only) Install Source Code for WhoIs v2.6.6
2.6.6
August 30th, 2008
679272 bytes
MD5
cf9454291199f6f0a4c959c9ae1611d7
SHA-1
d1cce159ee56bddc2497e3c0ceb0f6796311a247
SHA-256
8a9dc2a239ba163de25c2e3e6c2bc7658074557a52473ea812710d6df9bfbbd6
vbrun60-setup.exe
Download Visual Basic Runtime v6.0
You probably do not need to download this: Karen's WhoIs installer will automatically download and run the Visual Basic Runtime installer, if necessary.
1028368 bytes
MD5
899185daa1572ec47ddaefa1b9766136
SHA-1
644ee1472aee863d5dbea4914dd79ff1d2e062e0
SHA-256
7f7bc59f453539194c2d38fd68fb2b4beb3c1b5b5273cec1b7dd1150b0ea929d
VirusTotal Scan Results
Known Problems
Enhancements/Bugs Fixed
Version 2.7 2018-12-05 [View Workboard]
Previous Versions
Version 2.6.6 (Aug 30 2008 Refresh): Updates the WhoIs and RIR server databases. No changes to the program itself.
Version 2.6.6: Changed the way internal data files are stored to be more compatible with Windows Vista's security features. Also updated RIR information. Now current as of July 30th, 2007.
Version 2.6.5: Added support for new/aborning ".PRO" Top-Level Domain.
Version 2.6.4: Updated RIR information. Now current as of July 3rd, 2006.
Version 2.6.3: Updated program to handle new German WhoIs server's (.de TLD) requirements.
Version 2.6.1: Updated RIR information. Now current as of October 12th, 2005.
Version 2.6: Changed the way the program detects updated RIR information.
Version 2.5: Changed the "Tabbed Dialog" control to enable the program to work better with screen readers -- tools that help blind and vision-impaired users.
Versin 2.4.1: Fixed bug that caused Cancel button to be disabled.
Version 2.4: Updated Brazil's (.br) and Organization (.org) WhoIs servers. Added support for new RIR (AfriNIC). Regenerated IP-to-RIR table.
Version 2.3: Updated TLD table to reflect new WhoIs database authority for .org TLDs. Also improved program's handling of reponses from WhoIs servers that consist of multiple data packets. Program also accepts a domain name or IP address passed via its command line, to accomodate new feature added to Karen's URL Discombobulator.
Version 2.2.5: Added support for new RIR, Latin American and Caribbean Internet Addresses Registry (lacnic.net). Also updated IP address blocks assigned to the Asian Pacific Internet Registry (apnic.net).
Version 2.2.4: Updated TLD table to include new gTLDs: .info, .biz, .aero, .coop, .museum, and .name.
Version 2.2.3: Update TLD table to reflect ISI.edu's departure from the WhoIs server business. The .us TLD is now served by whois.nic.us, and the .edu TLD is now served by rs.internic.net.
Version 2.2.2: Updated IP lookup via ARIN to adjust to new ARIN network WhoIs lookup syntax.
Version 2.1.1: Can now automatically select RIR, based on each RIR's IP Address allocations.
Version 2.0: Can now query Regional Internet Registries (RIRs) for information about IP Address blocks.
Version 1.2: Greatly expanded list of ccTLD's fixed SLDs. This should solve many problems locating information in ccTLDs such as India, Indonesia, Mexico, Poland, etc.
Version 1.1.1: Expanded list of MIL SLDs.
Version 1.1: Can now lookup information about generic Top-Level Domains (gTLDs) and country-code TLDs (ccTLDs).
Version 1.0: None (this is the first release)
Downloads Today: 40
More than 6000 downloads monthly
Received $231.71 this month* — Thanks!
License for Work
A license is required to use any or all of these tools for your work. You only need one per lifetime. If you make money with Karen's software, read her license agreement.
Power Tools Newsletter
YouTube Channel
Kindle Edition
TeddyBear.com
26800 Verified Subscribers
Subscribe to receive new issues of the newsletter about Karen and her free Power Tools.
Click here to Subscribe
September Revenue* $231.71
*Licenses + Donations - PayPal Fees
Aug $189 Jul $379 Jun $188 May $484 Apr $212 Mar $519 Feb $89 Jan $462 Dec $1088 Nov $151 Oct $133 USD — Thanks again!