SendTo Clipboard v1.2
** Updated Apr 25, 2002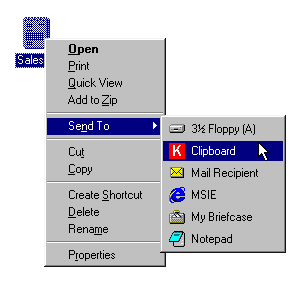 Send a text file or image file to Windows' Clipboard with just a click of your mouse. Karen's SendTo Clipboard adds a "Send To Clipboard" choice to the context menu that appears when you click on a file's icon with your right mouse button.
Enhancements/Bugs Fixed
Version 1.2: Fixed bug that prevented program from accepting files with embedded spaces in their path names.
Version 1.1: Program supports .TXT, .BMP, .WMF and .DIB files.
Thanks!
Please consider feeding our starving enterprise.
Power Tools Newsletter
Please don't click SPAM.
Windows-Key Searching
Disabling Web Search
Karen's Directory Printer v5.4.3 Released
33026 Verified Subscribers
Subscribe to receive new issues of the newsletter about Karen and her free Power Tools.
Click here to Subscribe