SendTo Clipboard v1.2
** Updated Apr 25, 2002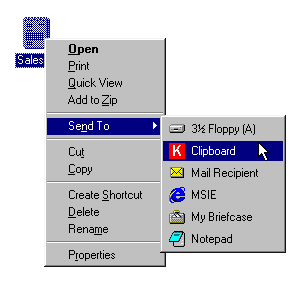 Send a text file or image file to Windows' Clipboard with just a click of your mouse. Karen's SendTo Clipboard adds a "Send To Clipboard" choice to the context menu that appears when you click on a file's icon with your right mouse button.
Enhancements/Bugs Fixed
Version 1.2: Fixed bug that prevented program from accepting files with embedded spaces in their path names.
Version 1.1: Program supports .TXT, .BMP, .WMF and .DIB files.
Thanks!
You make this dance possible.
Power Tools Newsletter
End July Now Sale: Until August 1st
27411 Verified Subscribers
Subscribe to receive new issues of the newsletter about Karen and her free Power Tools.
Click here to Subscribe