Match Maker v2.3
** Updated Jul 9, 2002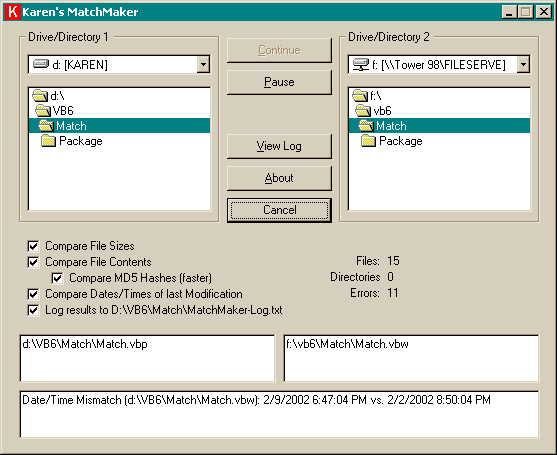 Quickly compare any two drives or folders. Now you'll know if your backup is complete and accurate. Check that CD you've just burned before sending it!
Enhancements/Bugs Fixed
Version 2.3: Updated to be compatible with PTMD5.dll v3.0.
Version 2.2: Program now sees and compares hidden folders and the files they contain.
Version 2.1: Added "View Log" button to program's main window.
Version 2.0: Added "MD5" (Message Digest 5) file contents comparision option.
Thanks!
Please consider feeding our starving enterprise.
Power Tools Newsletter
Directory Printer v5.4.4 Adds Unicode Characters Support
Replicator v3.7.6 Eradicates Bug that caused Error 3
31712 Verified Subscribers
Subscribe to receive new issues of the newsletter about Karen and her free Power Tools.
Click here to Subscribe