Font Explorer v2.0.3
** Updated January 21, 2003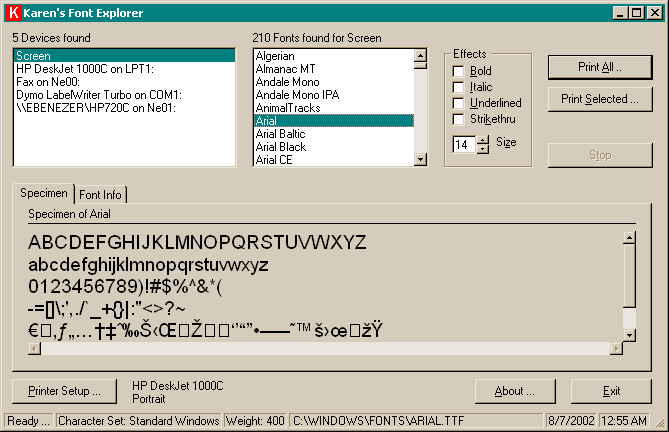 Learn your font facts. What devices support fonts? Which fonts do they support? What do those fonts look like? Karen's Font Explorer answers all these questions. Plus, it can print a complete specimen (sample of all characters in normal, bold, italic and bold + italic) for any single font, or for all fonts supported by a device!
For more information, read these back issues of Karen's Power Tools newsletter:
Download
Enhancements/Bugs Fixed
Version 2.0.3: Removed some debug code that was no longer necessary.
Version 2.0.2: Prevents rare corrupted font file from crashing program while extracting font's character set and weight.
Version 2.0.1: Fixes bug that could cause program to crash if asked to list fonts used by an off-line network printer.
Version 2.0: Now allows you to customize the printed report of font information. You can select the sample text, font effects, font size, and whether to print font information.
Version 1.5.2: Added workaround for certain (rare) printer drivers that incorrectly report their device name.
Version 1.5.1: Fixed bug that caused program to crash when main window was minimized.
Version 1.5: Program can now display the font information that previouly only appeared in printed font specimens.
Version 1.4.2: Removed some testing code, accidentally left in version 1.4.1, that caused the Font Explorer to print to screen (by default).
Version 1.4.1: Fixed bug that caused program to crash when scanning a non-TrueType font file with no version resource.
Version 1.4: Program now prints additional font information, including manufacturer, copyright, description, designer, version, character set and weight.
Version 1.3: Program now displays the name of the file which contains a particular font's information.
Version 1.2: Fixes bug in the original version that caused font attributes (bold, italic, etc.) to be displayed incorrectly when displaying a typeface with no Normal font (i.e. "Arial Bold").
Version 1.1: Allows the user to re-size the main window, allowing large point sizes to be completely displayed. It also adds scroll bars to the Specimen window when necessary. Thanks to reader Glenn W. Forsell for this suggestion!