Hasher v2.3.1
** Updated July 26, 2018
Compute and verify the MD5, SHA-1, SHA-224, SHA-256, SHA-384 or SHA-512 Hash Value of any text string, disk file, or group of files!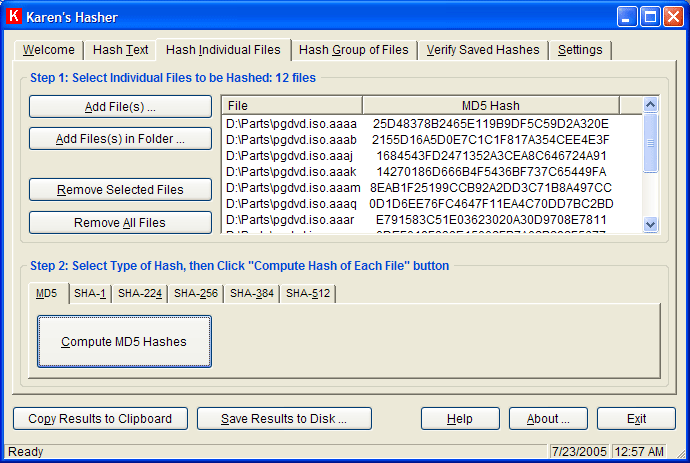 A Hash Value is a sort of digital fingerprint, uniquely identifying each text string or file. If two strings or files have the same Hash Value, then they are virtually guaranteed to be identical.
Verifying KarenWare.com Downloads using Karen's Hasher
For more information, read these back issues of Karen's Power Tools newsletter:
Download
File
Version
Released
Size
SHA-1 Hash
pthasher-setup-v2.3.1.exe

New!


Download and run to install the Hasher
2.3.1
July 26, 2018
1,246,736 bytes
7A99B2FDC65AC6BB9D912EE8D7EC293FA2809DDE
pthasher-setup.exe

Previous Version


Download and run to install the Hasher
2.3.0
June 19, 2007
1,225,792 bytes
1EC260DE8CC76B75ED439DAABEEE0C24D7503A55
pthasher-src.exe

Previous Version


Programmers Only: Download VB6 Source Code
2.3.0
June 19, 2007
248,592 bytes
69DF18B6DC12F2C257DC4616EE04B90184BEFA04
vbrun60-setup.exe
Download Visual Basic Runtime v6.0
Note: Karen's Hasher installer will automatically download and run the Visual Basic Runtime installer, if necessary.
1,044,480 bytes
084C127D1BC95D1341E7B17804749B033AB5398E
Known Problems
Enhancements/Bugs Fixed
Version 2.3.1: Task 51: Fixed "Runtime Error 76 (path not found)" error
Version 2.3: Made several changes to make program work under Windows Vista. These include an HTML-format help file, and changes to location where settings are stored.
Version 2.2.1: Made program more compatible with hash value files made by some other software (that delimit data with space instead of tab).
Version 2.2: Can now verify previously saved hash values, determining if the contents of files or folders have changed since the original hash values were computed and saved.
Version 2.1: Now supports SHA-1, SHA-224, SHA-256, SHA-384 and SHA-512 algorithms, in addition to the original MD5.
Version 1.0: This is the first release.

Downloads Today: 13
More than 6000 downloads monthly
Received $132.68 this month* — Thanks!
License for Work
A license is required to use any or all of these tools for your work. You only need one per lifetime. If you make money with Karen's software, read her license agreement.
Power Tools Newsletter
What is Karen's QR Code Talker?
What is a QR code?
What is a Code Talker?
24796 Verified Subscribers
Subscribe to receive new issues of the newsletter about Karen and her free Power Tools.
Click here to Subscribe
December Revenue* $132.68
*Licenses + Donations - PayPal Fees
Nov $546 Oct $253 Sep $232 Aug $189 Jul $379 Jun $188 May $484 Apr $212 Mar $519 Feb $89 Jan $462 Dec22 $1088 Nov22 $151 Oct22 $133 USD — Thanks again!