July 20, 2022
By Joe Winett
Dear Karen's Fans: Thank you
You've sent $2000 in 30 days.
I'm sending back this report with my thanks.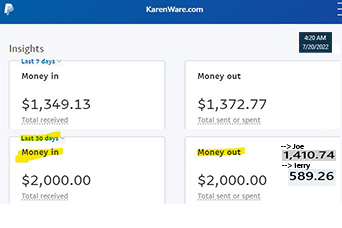 Following July 10th's Farewell Letter, and Hosting Paid on the 14th, donations and license fees poured into the site. Thank you very much.
I'm waving and saying Hi!
Love,
Joe Winett
This isn't my newsletter, so enough about me.
If you're curious about me, then here are some sources of information:
There have been 176 downloads today!
License for Work
A license is required to use any or all of these tools for your work. You only need one per lifetime. If you make money with Karen's software, read her license agreement.
November Revenue* $151.18
October $132.59 USD — Thank you!
*Licenses + Donations - PayPal Fees
Power Tools Newsletter
Website Joining Army
Open Source on Github
Teaching to Program on YouTube
26925 Verified Subscribers
Subscribe to receive new issues of the newsletter about Karen and her free Power Tools.
Click here to Subscribe