July 20, 2022
By Joe Winett
Dear Karen's Fans: Thank you
You've sent $2000 in 30 days.
I'm sending back this report with my thanks.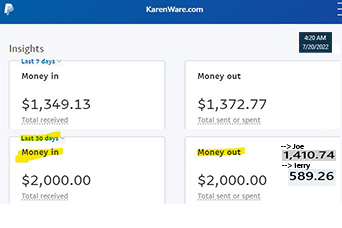 Following July 10th's Farewell Letter, and Hosting Paid on the 14th, donations and license fees poured into the site. Thank you very much.
I'm waving and saying Hi!
Love,
Joe Winett
This isn't my newsletter, so enough about me.
If you're curious about me, then here are some sources of information:
Thanks!
You make this dance possible.
Power Tools Newsletter
End July Now Sale: Until August 1st
27411 Verified Subscribers
Subscribe to receive new issues of the newsletter about Karen and her free Power Tools.
Click here to Subscribe